New, Eighth in the Series
The First in the Series

Welcome to the world of Baby Boomer Mysteries.

This is a series of cozies that takes a light-hearted look at issues facing the 76 million members of the Baby Boomer generation:
Retirement Can Be Murder, Moving Can Be Murder, Marriage Can Be Murder, Class Reunions Can Be Murder, Funerals Can Be Murder, Second Honeymoons Can Be Murder, Dieting Can Be Murder and In-Laws Can Be Murder
The latest Baby Boomer Mystery, In-Laws Can Be Murder
Two grandmothers, Carol and Margo, clash over a long-awaited first grandchild. But, after Margo thinks she's committed a murder (and then vanishes), Carol must step in and crack the case before the police get involved.
Now available on Amazon from Suspense Publishing,
In-Laws Can Be Murder
.
All books by Susan Santangelo are on Amazon.com in traditional print and electronic formats.
Check out Amazon
here
.

Come Meet the Author
Spring is here, and Susan will be doing an author talk about her Baby Boomer Mystery series on May 15 at 6:30 p.m. at the Acton Public Library in beautiful Old Saybrook CT
On Cape Cod on May 16 at 2:00 p.m., she will appear at Cape Heritage on Route 6A in Sandwich MA
Later, she will sign books at the First Congregational Church Fair in Chatham MA on July 9, 23 and August 13, 27.
Also on the Cape, Susan will be at the Unitarian Church Fair on July 13 in West Barnstable MA.
More events and signings to come. All are welcome. No charge to attend.
7:55 pm edt
Book Launch for In-Laws Can Be Murder on Tues., July 24, 2018
The latest in the Baby Boomer Mystery Series, In-Laws Can Be Murder, is being launched at 7:00 p.m.,Tues., July 24, at the West Dennis Library on Cape Cod, Mass.
This is a opportunity to meet with readers, talk about the continuing popularity of mystery novels and discuss this series in particular. It also is an occasion to showcase one of the nearly 40 local libraries on Cape Cod and the Islands which are so important to both readers and authors.
8:57 pm edt
Also on Amazon, from Suspense Publishing, Dieting Can Be Murder
There's a little too much to love about Carol Andrews these days, thanks to the extra calories she consumed during her second honeymoon in Florida with her husband, Jim. Determined to shed the extra pounds before the birth of her first grandchild, Carol joins Tummy Trimmers, a new, holistic approach to fighting—and winning—the battle of the bulge. But her weight loss regimen is interrupted by another group member, who collapses on Carol, right after completing a meditation exercise to help lose weight, and then dies. When the evidence points to murder, the always curious Carol can't resist adding sleuthing to her personal weight loss routine.
Read more at www.amzn.com/B071WPWZLG
7:45 pm edt
Second Honeymoons Can Be Murder
Sixth in the Baby Boomer Mystery Series, Second Honeymoons Can Be Murder, released by Suspense Publishing Feb. 16, 2016.
It can be found in print and in electronic version at Amazon.com.
Thank you so much.
9:06 am est
Susan Santangelo a Hit with Audience of 200 in Florida
By Monika Templeman and Eileen Buzzard
"There were no dead bodies at the Lakewood Ranch Country Club ... when Susan Santangelo captivated her large audience of over 200 with a mixture of humor, pathos and intrigue as she presented insights about her entertaining and innovative series - Baby Boomer Mysteries.
"In her inimitable and charming style, Susan revealed that when her husband of over 40 years retired, the events that followed served as her inspiration for the first Baby Boomer Mystery entitled, Retirement can Be Murder. The story focuses on the emotional impact of retirement on a typical Baby Boomer couple, Carol and Jim Andrews."
Lakewood Ranch Women's Club president, Patti Wrobel, right, introduced guest speaker Susan Santangelo at the club's monthly luncheon.
7:03 pm est
2019.04.01 | 2018.07.01 | 2017.06.01 | 2016.01.01 | 2015.03.01 | 2015.01.01 | 2014.11.01 | 2014.01.01 | 2013.10.01 | 2011.05.01

Since January 1, 2006, Baby Boomers are turning 60 at the rate of 8,000 a day, and coming face to face with how to define, and re-define, our "golden" years. Being part of this national phenomenon inspired me to write this mystery series. The first book, Retirement Can Be Murder, tackles the potential emotional impact of retirement on a typical Baby Boomer couple, Jim and Carol Andrews.
Carol dreads Jim's impending retirement more than a root canal without Novocain. She can't imagine anything worse than an at-home husband with time on his hands and nothing to fill it -- except interfering the day-to-day activities of their houshold and driver her crazy. Until her plans to stall Jim's retirement result in her husband being suspected of murdering his retirement coach.
As the series continues, I'm doing lots of author talks and signings. The stories other wives have shared with me about their husbands' retirement have been both funny and poignant. I'm thrilled to say that Retirement Can Be Murder has gotten terrific reviews. Midwest Book Review calls it "an entertaining and lighthearted read from a real pro. The Baby Boomer mysteries promise to be as germane as 'Murder She Wrote.' It would make a great television series." And Booklist says, "We'll look forward to more Boomer mysteries in the years to come....Pure fun."
A little about Susan: I've been a feature writer, drama critic, and editor for daily and weekly newspapers and magazines in the New York metropolitan area, including a stint at Cosmopolitan magazine. I'm a member of Sisters in Crime, International Thriller Writers, and the Cape Cod Writers Center, and divide my time between Florida and Cape Cod, MA. I share my life with husband Joe and English cocker spaniels, Boomer and Lilly.
Check out Retirement Can Be Murder, Moving Can Be Murder, Marriage Can Be Murder, Class Reunions Can Be Murder, Funerals Can Be Murder, Second Honeymoons Can Be Murder and Dieting Can Be Murder, all on Amazon.com.
To schedule an appearance or for other question, please contact: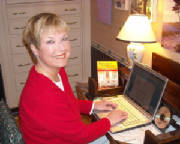 Author Susan Santangelo